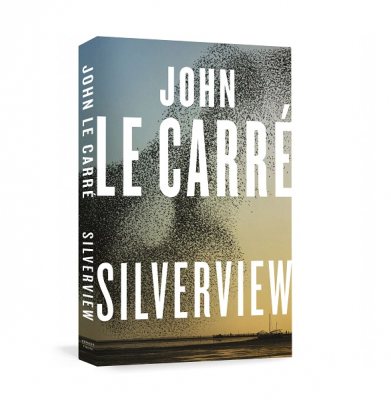 Reviewed by Jake Morgan.
Published posthumously, Silverview was written a year before Le Carre's death, yet the prose is fresh and the descriptions are layered and engaging. A brief tome, it focuses on the details surrounding a slim cast of characters and layers of intrigue between them.
Set in an East Anglian seaside town we are introduced to Julian Lawndsley, who has forsaken the rat race of a city career to open a bookshop. Our protagonist, Polish émigré Edward Avon is an early customer and claims to have known Julian's father. At the heart of the novel, we learn that he is a retired agent from MI6, and is under investigation by the service's head of domestic security, 'chief sniffer-dog' Stuart Proctor. Presented as a somewhat upper-class eccentric, Edward is revealed to be a battered but enduring idealist, with a past as complex as any of Le Carre's better known spy characters. The plot between spy and spy-master is carried forward by our bookstore owner as we question what would drive an impassioned and idealistic secret agent to turn renegade.
I felt that overall the book was incomplete, as if it should be the start of a greater work, rather than in and of itself. There are some engaging set pieces, but other parts feel rushed and inconclusive. Is it good, or good enough? I would argue for the latter, easy enough to consume in a sitting or two, a satisfactory work that leaves you wishing it had been more, but one in which fans of Le Carre will find plenty to enjoy.
Silverview
John Le Carre
Published January 2021, Penguin Random House
$35
Click here to buy now!